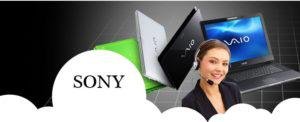 Sony peripherals or accessories are extremely popular around the world. While Sony is one of the most reputed brands in consumer electronics with a mammoth market share in televisions and audio systems as well, the products do need technical intervention from time to time. That is what we attend to with our fully dedicated Sony Support teams.
AT Cyber Computers, WE TAKE UP THE RESPONSIBILITY TO ENSURE THAT YOUR SONY DEVICES WORK JUST AS THEY SHOULD AND THAT YOU CONTINUE TO HAVE YOUR INVESTMENT REWARDED.
Sony devices come with a sturdy support system for software and the warranties do have limited protection for a period of time. You can easily get the software problems attended to using the integrated, preloaded programs in the devices and you can also opt for certain software troubleshooting online. But without official support, such remedies are futile. Also, you wouldn't get any hardware support or any of the components fixed or replaced after the warranty period. That is when you would need an expert to rely on for all the hardware and some software issues.
WE AT Cyber Computers REPAIR SONY LAPTOPS, SMART-PHONES AND TABLETS, INCLUDING THE SCREENS, HARD DRIVES, MOTHERBOARDS, PROCESSORS, KEYPADS, TOUCH-PADS, SPEAKERS AND MORE.
We offer online Sony Support that you can access anytime you have some problem with your devices, either hardware or software. We also attend to networking problems in Sony devices. Our onsite Sony Support services are ideal for businesses that need proactive and active intervention of multiple devices.
Our Sony Support services are much more affordable than other options at your discretion. You can choose onetime support services or you can opt for annual contracts. Our annual contracts will have blanket coverage and support for your Sony devices. They can secure you the peace of mind and will also enhance the life or durability of Sony products. Your specific Sony Support needs may not be generic so it is best to have a personalized approach.
Unlimited Comprehensive Sony Technical Support for one low price!
Tired of waiting long hours on the phone for support, only to be transferred from one department to another? If you need instant access to technical support experts for your Sony computer? We can help! At Cyber Computers you can choose a support plan that best suits your immediate need, starting at just $179.95 a year. Our Sony support technicians will troubleshoot and repair software issues with your Sony Computer. Call us 24/7 to have Sony driver updates applied; Compaq start-up errors repaired; unlimited viruses-Trojans-Rootkits-spyware removed remotely. Our technicians are available online to assist you.
Yearly Sony Support subscription includes:
Unlimited access to Online Support Experts for your Sony computer
Unlimited Live Phone Support to answer questions you may have
Unlimited Equipment Purchasing Support whenever you need it
Technical Assessment
Resolving Sony software startup errors
Applying "Windows Updates" regularly
Applying recommended "Security Patches" to secure your system
Unlimited Virus Removal, Unlimited Trojan-Spyware Removal Support
AntiVirus, AntiSpyware Definition Updates
Sony System Performance Optimization