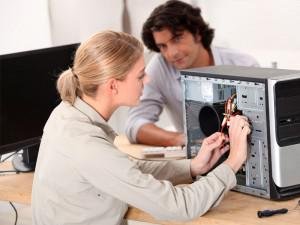 Hardware contributes to the proper function of your computer system whether it is the processor or the RAM. Hardware is required in order to accomplish certain tasks. Each and every component adds another functionality level to the user's computing experience. Using the Windows XP Operating System, it is very simple to install a new hardware into the computer. It is also quite easy to troubleshoot the installation when something goes wrong.
Cyber Computers is here to help with any specific hardware installation you may need. Installing and setting up hardware is not exactly an easy task and in most cases you require a trusted hand to make sure everything is put in place in accordance with the manufacturers specifications. Specifically we offer:
Installation of internal or external components and/or accessories. Examples include; printers, scanners, graphics cards, RAM, hard drives, MP3 players and much more
Making sure the device is communicating with your computer properly
Making sure the customer understands how to use the new peripheral or the new device
If you have a new printer, scanner, memory or hard drive, Cyber Computers will take the hassle out of installing it and making sure it works properly — no matter where you bought it. Let the Cyber Computers come to you to install your next computer gadget. Internal components, backup drives, printers, you name it—we can install it!
With this convenient package, your Cyber Computers technician will:
Connect and configure your new component, peripheral, or accessory
Install any drivers or software required for functionality
Help you make the most out of your new gadget